Oggi la figura di più alto profilo in casa Microsoft è Joe Belfiore, Corporate Vice President della società, ed è per questo motivo che gli utenti lo seguono con molta attenzione sui social. Ebbene, pochi giorni fa proprio un utente ha notato che Belfiore ha utilizzato un iPhone per pubblicare un foto su Twitter.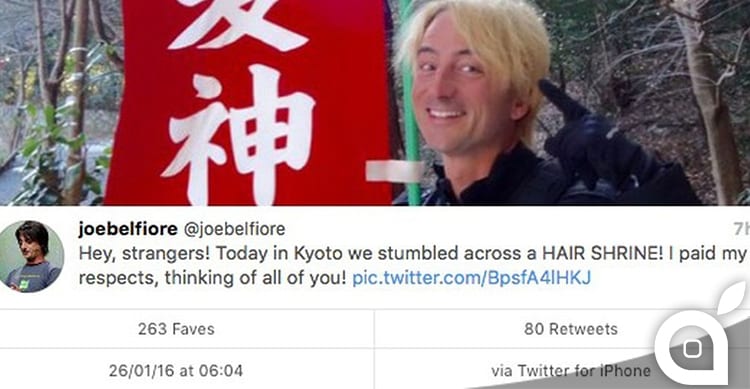 A dire il vero, questa non è la prima volta per il dirigente di Microsoft. L'accaduto risale a due anni, e Belfiore si giustificò spiegando che stava testando iOS 7.1.
Tornando ad oggi, anche TheVerge ha riportato la notizia e Belfiore ha deciso di tutelare la sua immagine con un lungo commento all'articolo. In particolare, ha affermato che come uomo di tecnologia deve provare anche altre piattaforme, come iOS e Android. Ha continuato poi dicendo che per scoprire cosa la concorrenza ha davvero da offrire, i loro dispositivi devono essere utilizzati a tempo pieno.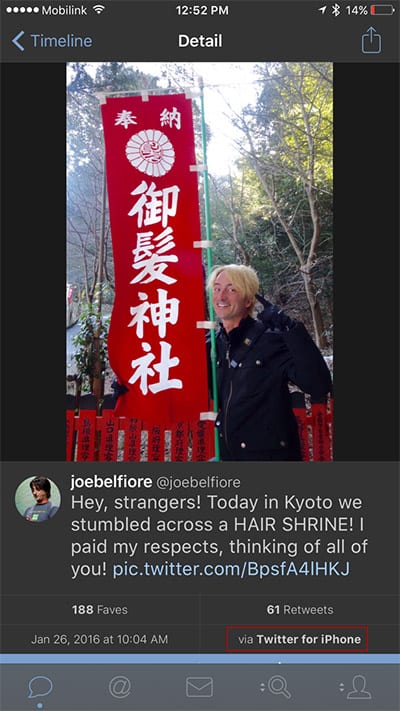 Qui vi riportiamo l'intero commento di Joe Belfiore:
«Joe here — I wanted to comment because I think it's useful for anyone working in tech.. or ASPIRING to work in tech.. to think about the trade-offs involved in what somehow appears as a "dramatic" decision! I suspect the significant majority of you will land on the same side of the issue that I have…
My job for the last couple of years has been (1) to curate the PC experience for Windows PCs (including tablet devices) and (2) to curate the experience for Windows Phones. In both capacities, it's very important for me to understand products like the iPhone and Android phones, which are heavily used by PC users around the world, and which represent the competition for Windows Phone. Consumers and business users expect their PCs and phones to work in concert— so to satisfy our customers we need to consider the devices they use AS WELL AS the devices we'd like them to use.
On a 9-month leave-of-absence, I have a HUGE AND UNUSUAL opportunity to get to know these products deeply. To understand the benefits and drawbacks of a full ecosystem like Windows, Android, iOS — you have to LIVE IN IT. You have to feel its strengths and weaknesses, be let down, be delighted. And you can't do that just "playing around" with a device for a couple of days. You have to learn the UI, upload your photos, use cross-device apps and tools… all of it.
When we are developing a release of Windows, we MUST use it all the time, on all devices, in order to find the bugs, iterate the design. There's really no choice or we can't build Windows as well as we should. On a leave-of-absence, there are tons of talented people doing that every day, which gives me the possibility of spending depth time on other devices, and using Windows very much like you Insiders do, without full knowledge of what's happening "behind the curtain".
Furthermore, there's a lot of work happening at MS which integrates Windows PCs with iOS and Android devices— like bringing Cortana to these phones so your intelligent assistant can help you whereever you are. I want to experience and understand all that work deeply too.
So … I think Vlad has it right when he says "it's OK". (Thank you, Vlad.) But, I'd go farther and say "it'd be CRAZY not to"! In fact, when I posted on FB that I was taking a leave, I did mention explicitly that I would do this… and (horror of horrors) I've followed through, spending a bunch of time using Google Maps, Spotify, Periscope, a MacBook, a Nexus phone, etc. And.. in today's Microsoft, this practical, customer-focused attitude is well celebrated and supported. (and.. btw… I love my Surface Book!)
That's all from me. Back to quality time with my family, well, and thinking about the (still-obviously-so-entertaining) question of what I could do next with my hair…»
Via | RedmondPie